Data Management News for the Week of August 18; Updates from Denodo, Monte Carlo, Semarchy & More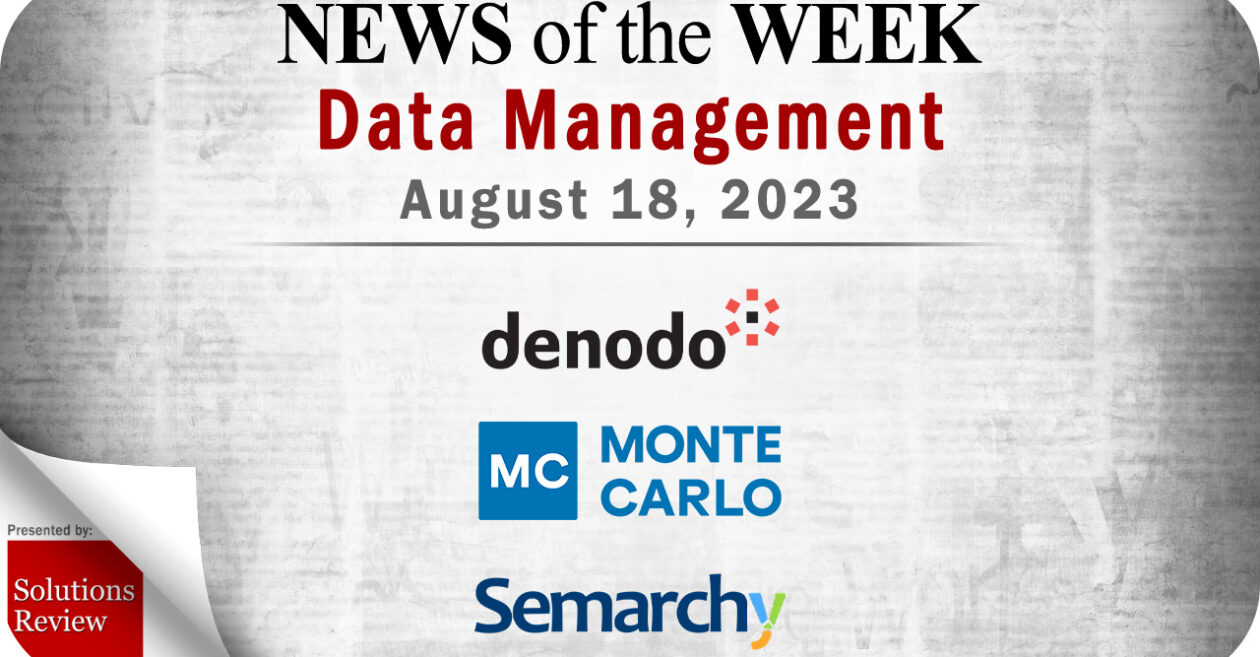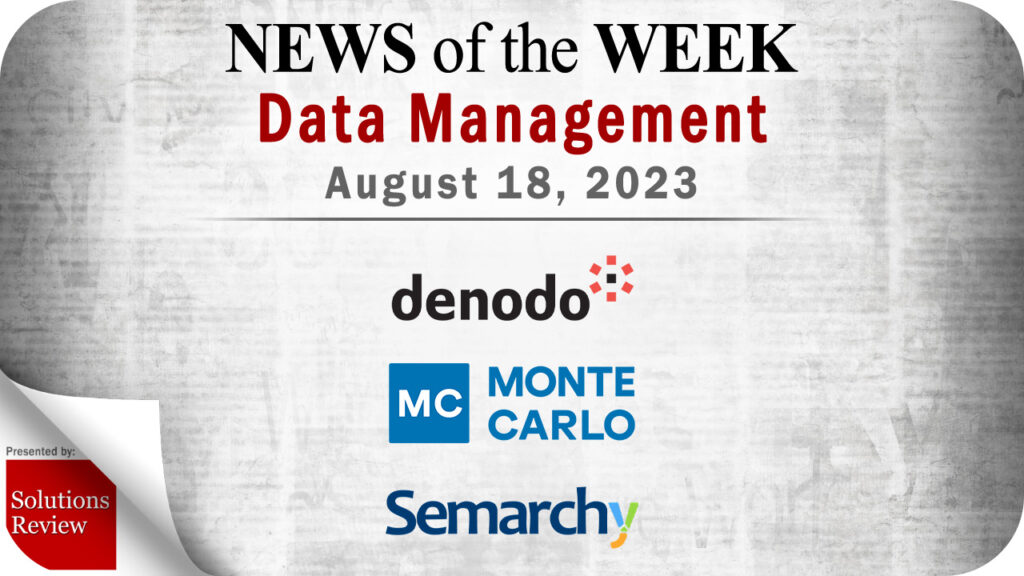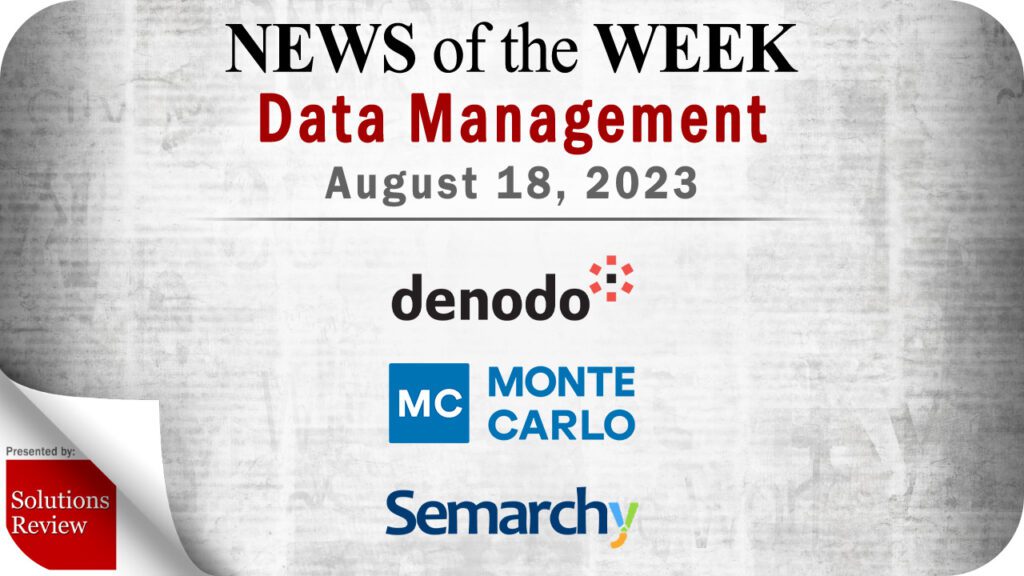 Solutions Review editors curated this list of the most noteworthy data management news items for the week of August 18, 2023.
Keeping tabs on all the most relevant big data and data management news can be a time-consuming task. As a result, our editorial team aims to provide a summary of the top headlines from the last week, in this space. Solutions Review editors will curate vendor product news, mergers and acquisitions, venture capital funding, talent acquisition, and other noteworthy big data and data management news items.
Top Data Management News for the Week Ending August 18, 2023
Apica Acquires LOGIQ.AI and Raises New Funding
The Apica Ascent platform with LOGIQ.AI gives users complete data pipeline control, a unified view of all information, and infinite high-quality storage. The platform acts as a superior indexing tool that aggregates data such as logs, traces, network packets, etc. from multiple sources and improves data quality by trimming off excess data and performing enrichments.
Census Expands Partnership with Databricks
Teams can now sync the outputs of their AI/ML models along with other first-party data into marketing automation hubs, customer service tools, and other business platforms to help drive business outcomes. To get started with Census on Databricks Partner Connect, schedule a free demo and start expanding the capabilities of your lakehouse.
Constellation Research Drops New Metadata Management ShortList Report
Added to this ShortList is data.world, which has seen significant growth in customers and users while also demonstrating innovation in the areas of automation and generative AI. IBM was dropped from this ShortList having shown limited signs of metadata-management and catalog-related investment and innovation over the last year.
EDB Expands Partnership with Google Cloud
Fully-managed database-as-a-service EDB BigAnimal on GKE Standard and EDB Community 360 PostgreSQL on GKE Autopilot and GKE Standard are now available on Google Cloud. EDB is helping customers experience the power of the world's most popular database with world-class support from one of the industry's largest contributors to Postgres.
Redis Announces Unified Release of Version 7.2
Redis 7.2 raises the bar for ease-of-use across the board from new core Redis capabilities to tooling while ensuring that the clients, integrations, and documentation deliver a seamless, unified experience. Additionally, with the growing challenges of building generative AI applications, Redis Enterprise has been enhanced to store vector embeddings while providing a high-performance index and query search engine.
Striim Launches Version 4.2 of Striim Cloud
This new release builds on Striim's capabilities by increasing the number of sources and targets that customers can read from and write to using Striim's built-in adapters, with over 150 sources and targets now supported. With a few clicks, Striim's customers can quickly and securely build smart real-time data pipelines to stream trillions of events every day.
Tamr Partners with XponentL Data on Data Products
By combining the expertise of XponentL and Tamr, clients in the Energy industry will benefit from advanced materials mastering capabilities. This includes robust data integration, harmonization, and data marketplace tools that enable efficient management, analysis and search of complex material data.
Expert Insights Section
Watch this space each week as Solutions Review editors will use it to share new Expert Insights Series articles, Contributed Shorts videos, Expert Roundtable and event replays, and other curated content to help you gain a forward-thinking analysis and remain on-trend. All to meet the demand for what its editors do best: bring industry experts together to publish the web's leading insights for enterprise technology practitioners.
Solutions Review Set to Host Monte Carlo for Exclusive Spotlight Webinar on August 21
With the next Solutions Spotlight event, the team at Solutions Review has partnered with leading reliability vendor Monte Carlo to provide viewers with a unique webinar called Architecting for Data Quality in the Lakehouse.
Solutions Review Set to Host Semarchy for Exclusive Spotlight Webinar on August 22
With the next Solutions Spotlight event, the team at Solutions Review has partnered with leading unified data management platform Semarchy to provide viewers with a unique webinar called Improving ROI & Collaboration with Unified Data Management.
What to Expect at Denodo DataFest 2023 on September 12-14
This event offers opportunities to learn about best practices and tips for leveraging the Denodo Platform's logical approach for cloud modernization, self-service analytics, data science and machine learning (ML), data fabric, data mesh, and more.
Solutions Review Set to Host BARC, Sigma Computing, Monte Carlo & Databricks for AI Expert Roundtable on September 14
With the next Expert Roundtable event, the team at Solutions Review has partnered with BARC Research, Sigma Computing, Monte Carlo, and Databricks to showcase real-world examples of success and help you understand new strategies for augmenting your existing data and analytic investments to innovate, better leverage AI and realize greater ROI.
For consideration in future data management news roundups, send your announcements to the editor: tking@solutionsreview.com.