Data Management News for the Week of August 25; Updates from Denodo, Monte Carlo, Safe Software & More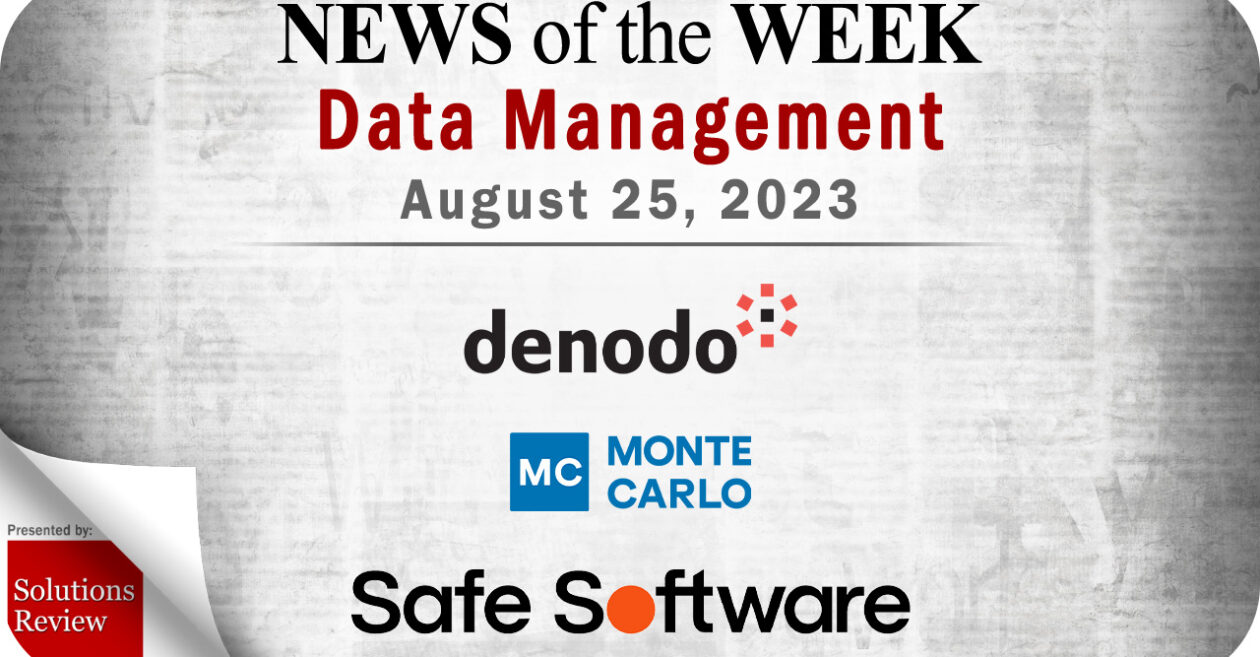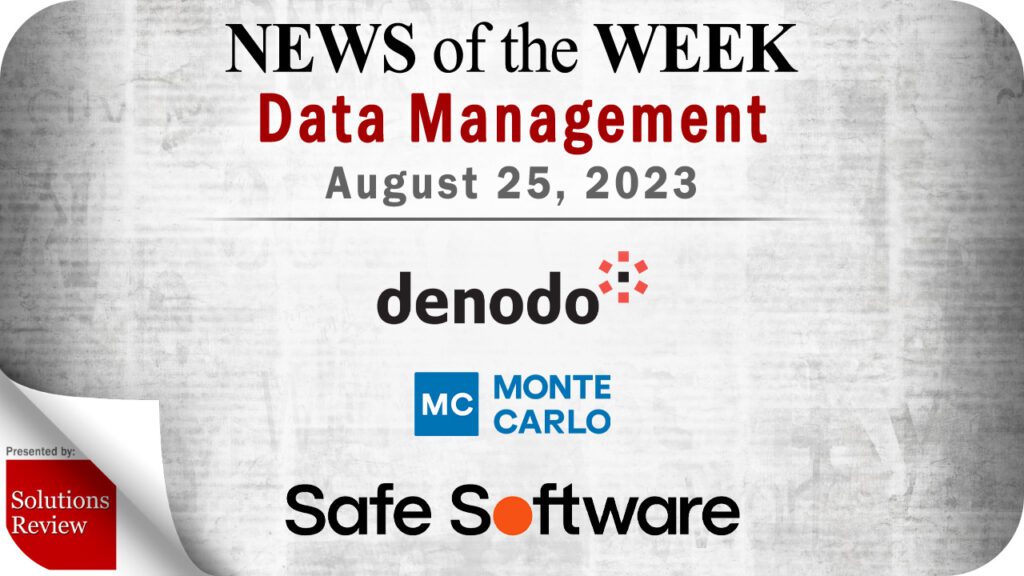 Solutions Review editors curated this list of the most noteworthy data management news items for the week of August 25, 2023.
Keeping tabs on all the most relevant big data and data management news can be a time-consuming task. As a result, our editorial team aims to provide a summary of the top headlines from the last week, in this space. Solutions Review editors will curate vendor product news, mergers and acquisitions, venture capital funding, talent acquisition, and other noteworthy big data and data management news items.
Top Data Management News for the Week Ending August 25, 2023
Airbyte Makes its API & Terraform Provider Freely Available
Previously available exclusively on Airbyte Cloud, Airbyte API and Terraform Provider are now accessible to all Airbyte users, enabling Airbyte resources to be managed programmatically – streamlining workflows and integrating Airbyte configurations with existing data infrastructure.
Arcion Continues Meteoric Rise with New Features, Partners & Funding
Arcion continues to innovate in its journey to power the next generation of AI and analytics applications with real-time enterprise data from online transaction processing (OLTP) databases like Oracle, SQL Server, DB2, Sybase, MySQL, and Postgres. Arcion's new connectors for Oracle and MySQL offer 10x more throughput, effectively utilizing the underneath scalable architecture.
Astera Drops Version 10.3 with AI Data Management
Astera now offers AI-driven data extraction. Using generative AI technology, the new data extraction tool effortlessly generates templates for multiple files simultaneously. Specify the document type and layout, and intelligent AI algorithms will extract and process data from numerous documents 90% faster, saving time and resources.
Datometry Announces Hyper-Q for Databricks on AWS
Datometry Hyper-Q for Databricks makes existing applications work as-is with Databricks without the need to rewrite or modify them. Today, Datometry made its flagship product Hyper-Q for Databricks also available on AWS. Customers, including those using Teradata Vantage on AWS and Oracle RDS, can now run their workloads directly on Databricks in AWS.
Fauna Adds New Database Language & Dev Experience
The new database language and developer experience unleashes the power of Fauna's industry-leading distributed, document-relational database. Fauna is used today by 3000+ development teams spanning 180+ countries for user-centric and distributed/edge applications, real-time services, stateful serverless and multi-tenant SaaS offerings.
Ikigai Labs Announces $25M Funding for Generative AI Tabular Data
The capital will further Ikigai Lab's vision to revolutionize the way enterprises harness AI. Organizations can be trained to master AI leveraging the Ikigai Academy and using the Ikigai platform that is easy, fast and powerful by design.
MongoDB Unveils Queryable Encryption
First announced in preview in MongoDB 6.0 in 2022, Queryable Encryption introduced a fast state-of-the-art encrypted search algorithm using innovative cryptography engineering built and designed by MongoDB's Cryptography Research Group with decades of experience designing state-of-the-art encrypted search algorithms.
Mozart Data Enhances Data Transformation Features
With the new integration, Mozart Data's platform essentially serves as a data orchestration layer to run dbt jobs — creating a comparable and cost-effective alternative to dbt Cloud and eliminating the need to onboard an orchestration platform like Airflow. Because Mozart's platform is managing orchestration, dbt transformations are part of the larger, cohesive data pipeline.
Neo4j Integrates Native Vector Search Within Popular Database Platform
Neo4j's graph database can be used to create knowledge graphs, which capture and connect explicit relationships between entities, enabling AI systems to reason, infer, and retrieve relevant information effectively. The result ensures more accurate, explainable, and transparent outcomes for LLMs and other generative AI applications.
Striim Announces More Improved, Secure Connection to Google Cloud
Striim says it worked with Google to develop its PSC integration, thereby streamlining the development of integration points among the sources and targets of Google Cloud customers. Striim Cloud customers can now use a "simple GUI" to configure their PSC connections in a matter of minutes, Striim says.
Telmai Launches on the Google Cloud Marketplace
The platform is a fully hosted software managed by Telmai and is also available for private cloud deployment in customers' Google Cloud, AWS, or Azure environments. With Telmai now available on Google Cloud Marketplace, organizations can deploy Telmai data observability in just a few clicks and benefit from consolidated cloud spend and unified billing that makes their procurement easy.
Expert Insights Section
Watch this space each week as Solutions Review editors will use it to share new Expert Insights Series articles, Contributed Shorts videos, Expert Roundtable and event replays, and other curated content to help you gain a forward-thinking analysis and remain on-trend. All to meet the demand for what its editors do best: bring industry experts together to publish the web's leading insights for enterprise technology practitioners.
What to Expect at Denodo DataFest 2023 on September 12-14
This event offers opportunities to learn about best practices and tips for leveraging the Denodo Platform's logical approach for cloud modernization, self-service analytics, data science and machine learning (ML), data fabric, data mesh, and more.
Solutions Review Set to Host BARC, Sigma Computing, Monte Carlo & Databricks for AI Expert Roundtable on September 14
With the next Expert Roundtable event, the team at Solutions Review has partnered with BARC Research, Sigma Computing, Monte Carlo, and Databricks to showcase real-world examples of success and help you understand new strategies for augmenting your existing data and analytic investments to innovate, better leverage AI and realize greater ROI.
For consideration in future data management news roundups, send your announcements to the editor: tking@solutionsreview.com.